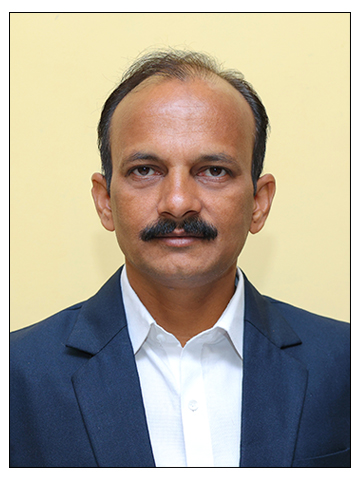 Principal Desk
Dr. V.R. Kodape
It gives me an immense pleasure to pen a few words about our college. Shri Kisanlal Nathmal Goenka College of Arts & Commerce, Karanja Lad affiliated to Sant Gadge Baba Amravati University, Amravati was established under "The Berar General Education Society, Akola" in1961.
The college celebrated its Golden Jubilee Year in 2012-13 by conducting many projects related to curricular, extra-curricular, sports & social activities. The college is reaccredited by NAAC with "B+" grade having CGPA-2.56 in 3rd cycle. Our college is one of the premier institutions delivering excellent education through dedicated collaborative efforts achieving towards recognitions.
Effective Curriculum
As part of NEP-2020 college has adopted Choice Based Credit System (CBCS) which is helpful in getting large number of employment opportunities to students.

The college has effective curriculum planning conducted number of certificate courses during last 5 years. Curriculum enrichment and feedback system enhance the learning effectiveness. College has effective teaching learning and evaluation system. Students' centric methods are used for enhancing learning experiences using ICT tools.

Excellent teaching staff and good performance of student are the special features. The college has excellent pass percentage with 15 merits in P.G. Department of History and Home Economics.

During Covid Pandemic College conducted teaching learning activities effectively through e-pathshala. Institution has created an Ecosystem for Innovation and organised number of workshops seminars and conferences. Teachers published many research papers in National and international journals. Students regularly participate in cultural activities, which is a cultural youth festival conducted by university.

Extension activities are carried out in the community NSS unit has conducted many activities through extension and outreach programs. During last 5 years, college received twice Swachhata award. The College has adequate infrastructure and physical facilities including Library and IT infrastructure.

College has been spending huge amount of expenditure on augmentation and maintenance of the infrastructure. 90% students get benefit by scholarship and freeship. College has active Alumni Association, which contributes significantly to the development of the institution through financial and other supports. Physical Education Department is vibrant and students' participation in sports is highly remarkable. College has excellent governance leadership and management which is in accordance with vision and Mission of the college.

Effective welfare schemes and teachers' participation in Faculty Development Programs is remarkable. IQAC is fully functional and has conducted large number of activities during last 5 years. Institution has been conducting regular quality fire audit, energy audit and environmental audit. College celebrating Important Days having social reviews and has large number of best practices. Institutional distinctiveness is to promote innovation and inspiring young minds. The college is advancing towards quality enhancement and defining the elements of higher education through a combination of self and external quality evaluation, promotion and sustenance initiatives.